Desks
We stock a large range of desks fully checked and tested by our experts. If you see any desks you like, please use our online contact form or call us directly on 0116 260 2692 for further information and to order your desk and arrange delivery. Please come and visit us at our showroom to view our full range of desks.
Want Desks?
Latest Offer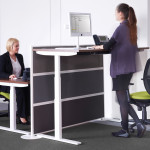 Elev8 Height Adjustable Desk
New for 2016! View our elev8 height adjustable desk.
View Offer
Test & Order in Store

Order via 0116 260 2692 Available

Order via Website Available

Delivery Available

Straight/Rectangle

Product ID: MC8SB

Durable silver cantilever frame.

25mm Thick Top,
Deluxe double upright leg for strength
2 cable access ports

Test & Order in Store

Order via 0116 260 2692 Available

Order via Website Available

Delivery Available

Corner/Ergonomic

Product ID: 25SEL16B

25mm Thick Top and Let
Accepts one fixed pedestal on 800mm end
Two Cable Access Ports

Test & Order in Store

Order via 0116 260 2692 Available

Order via Website Available

Delivery Available

Wave

Product ID: 25WWR12B

25mm Thick Top and Leg
Accepts one fixed pedestal on 800mm end
Two Cable Access Ports

Test & Order in Store

Order via 0116 260 2692 Available

Order via Website Available

Delivery Available

Home Desking

Product ID: AMAWS

View our durable and affordable home desking range. For a more in-depth stock guide, please request our brochure here or visit our showroom (find directions here).

Rectangular Workstation in Oak

Product ID: AMAWS

Width: 1200mm
Depth: 600mm
Height: 760mm

Send Info To Email

Straight Home Office Desk

Product ID: EC1380LB

View Sizes

A (mm)

B (mm)

C (mm)

D (mm)

Send Info To Email

Home Desk

Product ID: RIOWS

3 Sizes Available

1310mm Width, 650mm Depth,  755mm Height
850mm Width, 284mm Depth, 1600mm Height
477mm Width, 447mm Depth, 558mm Height

Send Info To Email

Office Straight Desk

Product ID: UB1180B

View Sizes

A (mm)

B (mm)

C (mm)

D (mm)

Send Info To Email

Test & Order in Store

Order via 0116 260 2692 Available

Order via Website Available

Delivery Available

Executive

Create a luxury and executive environment with our very stylish and affordable executive desk range. Visit our showroom for a more in-depth stock and full range available.

Test & Order in Store

Order via 0116 260 2692 Available

Order via Website Available

Delivery Available

Bench

Affordable bench products, our full range is available at our showroom, please click here for directions or send us a message using our online contact form.

Test & Order in Store

Order via 0116 260 2692 Available

Order via Website Available

Delivery Available

Nero Furniture

NER-190DK/L

Product ID: NER-190DK/L

Desk with left hand storage return unit (incl. shelves & keys).

Send Info To Email

NER-200DK

Product ID: NER-200DK

Straight desk with modern hanging modesty panel.

Send Info To Email

NER-190DK/R

Product ID: NER-190DK/R

Desk with right hand storage return unit (incl. shelves & keys).

Send Info To Email